Our team is here to help you. Our goal is to meet your needs as it pertains to the health and well-being of their pet. Our clients' pets are members of their family, and expect the same quality healthcare as they would for any other member of their family. When your pet comes to Brightman Pet Clinic they become a part of our family too.
Dr. Jodi L. Nichols
DVM
Dr. Jodi Nichols is a local from Holt (just North of Shalimar) and a graduate of Baker High School. She completed her Bachelor's Degree at the University of West Florida, and in 2009 received her DVM at Auburn University. Early on, her interests included volleyball and competitive horse events. Dr. Nichols realized at an early age that she wanted to be a veterinarian so that she would have access to medicine and technology that could help animals.

Over the last several years, she has worked at three other small/large animal practices to gain experience and knowledge to one day obtain her goal of owning her own practice. In February 2014 her goal was achieved when she purchased Brightman Pet Clinic.

She is known for the quiet and loving care she shows to the patients and is meticulous in her care for sick animals. Some even call her the "Chihuahua Whisperer"!

At home, Dr. Nichols has her hands full with two Australian Cattle Dogs ("Tooti" and "Tina"), a Chihuahua ("Minnie"), a Spaniel ("Max") and "Robert" her cat. These five trouble makers make it interesting to go home and see what adventures they have had during the day!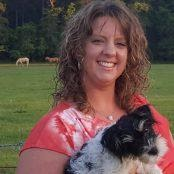 Kelley Stidham
Office Manager
Kelley is our own "Ms. Personality" as you will realize when you meet her. With her extensive veterinary office experience, she has come to our office and hit the ground running. She doesn't meet a stranger and she makes friends quickly with both our four and two legged clients.
When Kelley is not busy at the office, her special loves at home are her husband Brandon, and children Colton, Kenzlee and Ridder. Her family is heavily involved with horses and they oversee the youth at their cowboy church with "Roping the Truth Ministries". When not at work or the arena she can be found at the football field or basketball court with her oldest son. She has five horses, eight dogs, one cat, two goats and let us not forget "Pedro" and "Rosita" their miniature donkies! When does she have time to work you might ask?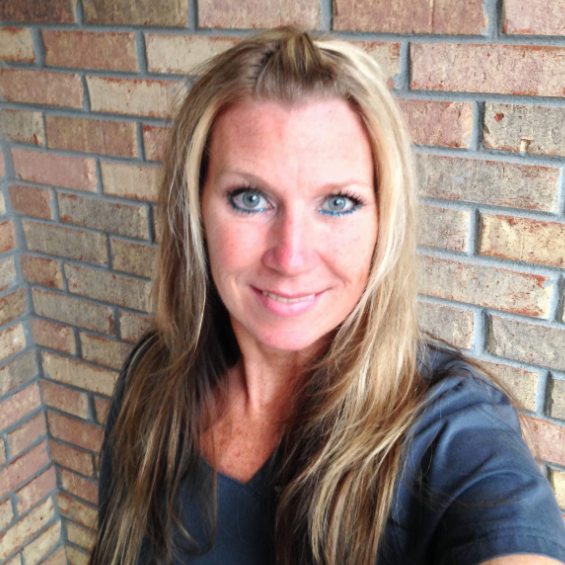 Pollie Anna McCormick
Veterinary Technician
Pollie was born in California as a Navy brat, grew up in Norfolk Virginia, and then moved to Florida in 2000 with her only daughter Mandie. Mandie is married and attending Law School in Houston, Texas. (Pollie is a VERY PROUD MOM!) Pollie resides in Navarre with her husband Sean and two step children. When she is not at work she loves fishing, boating, and the beach. When Pollie cannot be outside her indoor fun includes bowling and painting. She has a cat named Itty Bitty who brings her so much happiness, and we cannot forget her chickens! She started in the Veterinary field in 2001 and enjoys the challenges it can bring. Pollie is the glue that holds this Brightman Pet Clinic together!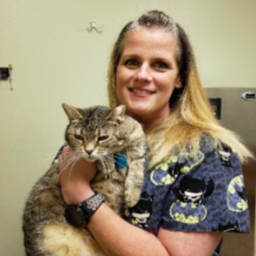 Dyanne Cole
Veterinary Technician
Dyanne is originally from Illinois but she moved to Florida in 2006. She went to school for Medical Technology and holds a degree and current licensing as a Registered Medical Technician, but her true passion has always been caring for animals. After working in human meds for a while she cross trained to veterinary medicine in 2010. Dyanne has been with Brightman Pet Clinic since January of 2017. She is married and has a son, daughter-in-law and a step-son. Her fur babies include two dachshunds, Oscar and Tad, a husky named Nova, and a blind rescue mix named Baxter. She also has multiple ferrets and cats. In her spare time she volunteers with a local rescue and has been a foster parent to many dogs in need.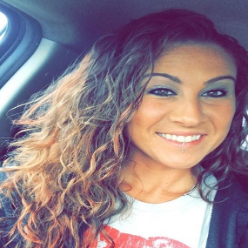 Jenny Salak
Veterinary Technician
Growing up a Midwestern girl, Jenny has always been a lover of animals and can't imagine doing anything else. She has been a veterinary technician now for almost 10 years, including 4 years at the emergency clinic. She has always had pets, as for now she has 3 dogs, a cat, and a king snake named Fredrick Bologna. Jenny is a mom, raising a boy, doing life to the fullest. When she is not at the clinic you will find her outside somewhere with her pack (her family). She enjoys being with friends, family, and positive people. Even though she's the newest addition to Brightman Pet Clinic, she's very excited to see what new adventures come her way.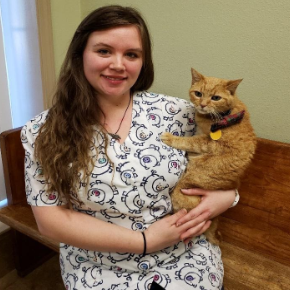 Jamie McMilian
Technician and Receptionist
Jamie was born and raised in Crestview, FL with her father and 4 younger siblings. She always has a smile on her face and willing to help out wherever she can. At a young age Jamie knew her passion was in the animal care field. Jamie joined our team after graduation from Pensacola State College with an Associates in Science degree in Veterinary Technology. Her experience varies from farm animals to our furry companion animals. She recently adopted a puppy named Blue who loves his new family of two dachshunds Pebbles and BamBam and two kitties Charlie and Little Dude. When not at work you can find Jamie working on her race truck or spending time with her siblings and loved ones.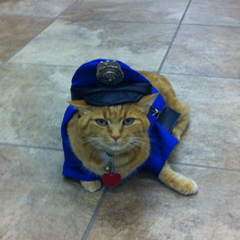 Tony
Assistant Manager/Security
His background is a bit shady; he just showed up one day back in 2011. We're thinking maybe he came from the Witness Protection Program. He worked his tail off starting out mastering the skills of desk paperweight, to shredding the occasional paper or two. Then he began paroling outside the exam rooms when things seemed to get a little unruly ready to jump in and rescue our hard-working staff at any given moment. We all knew before long that he had our backs or our laps at any given turn. He has put in so many countless hours working late, staying through weekends, whatever it takes to get the job done as he has climbed the ladder of success.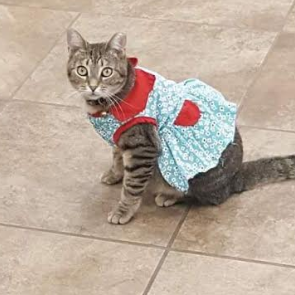 Miss Pat
Greeter
Ms. Pat started out on the streets working hard to make ends meet. She has always been a friendly little lady willing to make friends wherever she went. One day she was brought into a clinic somewhere and they made it where she would not ever have the responsibility of raising hundreds of little ones that would also be looking for loving homes like she was at the time. Then in 2016 she became the personal greeter here at Brightman Pet Clinic, when we took her in and gave her a permanent home and family.